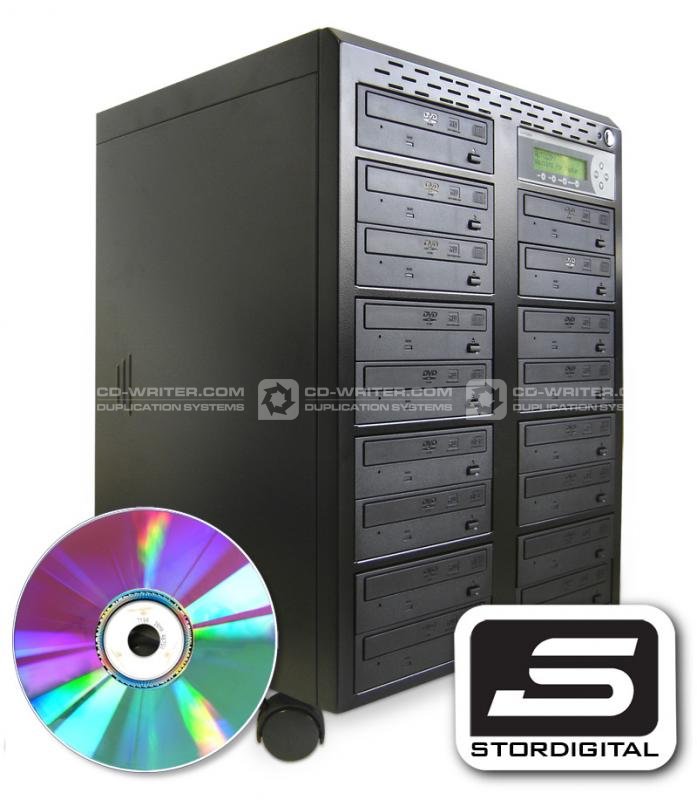 As part of our continue product development we have launched the new StorDigital PowerTower. The PowerTower DVD and CD duplicator utilises our years of experience in optical duplication technology production to deliver a tower DVD CD duplicator that operates at the very pinnacle of performance levels.
With the StorDigital PowerTower you get, High Quality Build, High Level Performance and Long Term Durabilty.
Using a uniquely fabricated steel case with high grade power supply the PowerTower duplicator from StorDigital offers performance that canot be exceeded. By using a special ventilated design the duplicator case extends the life time of drives by preventing the suction of dust into the physical drive units, ensuring gears, bearing and belts, that allow drive to operate remain in perfect working order. The PowerTower ventilation system allows efficient drive cooling via the built in high capacity fans but ensures airflow is around the drives rather than through them. Most duplicators will draw air and particles into them as the fans draw the air out the back of the unit. With the new vented system the PowerTower ensure that air circulates just where it is needed.
At StorDigital we have repaired many out of warranty units for customers who's machines have suffered from be operated within a dusty environment. It is important for a DVD or CD duplicator to draw in air to cool component whilst the system is in operation but without proper management this contaminated air flow can actually harm components. But no any more thanks to the StorDigital PowerTower.
All PowerTowers ship with the latest Pioneer drives ensuring the best performance over the full range of duplication application. By using Pioneer we ensure the longest possible lifetime for opeartion of the drives and the best possible performance when copying CD, DVD-R, DVD+R and Dual Layer DVD. The Pioneer drives ensure the fasted possible burn to the highest possible quality every time.
So what do you get when you buy the StorDigital PowerTower?
Strong Steel Build
Ventilated Case Design
Upgraded Power Supply
Tower Support Feet
Enhanced controller functionality
The Latest Pioneer Optical Burner
PowerTower customers also benefit from an enhanced duplication controller that supports the following upgrade features:
01) Hard Drive Option
02) USB Connect Option
03) USB Copy Connect Option
04) DVD Video Copy Protect Option
05) Network Connect Option
06) Daisy Chain Connect Option
StorDigital PowerTower is a special build available to a limited number of customers only. Each unit will be built and tested to order. To find out more about the advantages of the StorDigital PowerTower over other duplicators available call us today on 020 8293 0777.