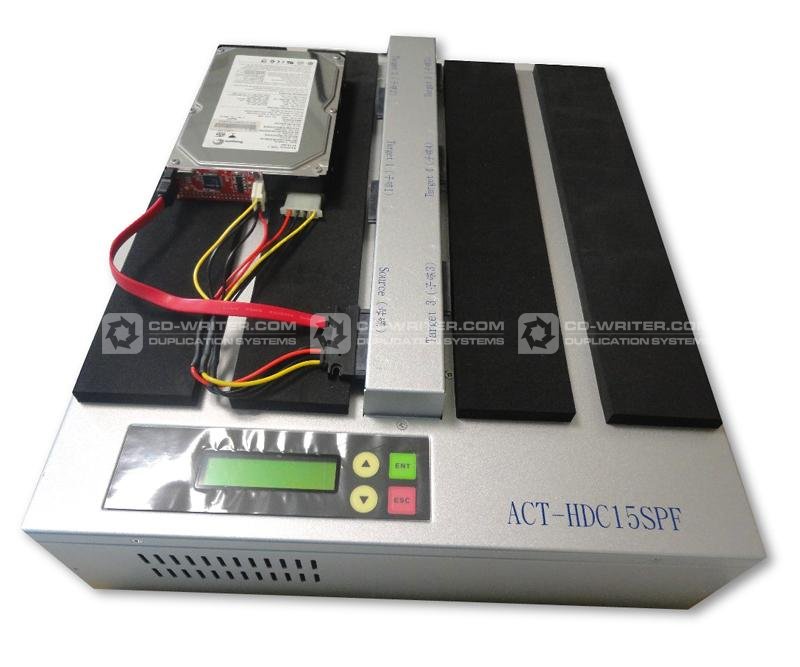 As part of our continued drive to deliver innovative new products we are proud to announce the forthcoming release of our new range of Hard Drive Duplicators. The StorDigital Clone Station range will offer an easy to use solution for individuals and businesses engaged in system building and and IT systems management. The new HDD duplicators offer a fast and effective solution for both hard drive duplication and hard drive erasing and sanitisation. Contact us today on 0208 293 0777 to find out more.
System Builders and IT Managers save time and money – New from StorDigital, the HD Clone Station hard drive duplicator delivers fast and effective duplication and cleansing of multiple hard drives.
London, United Kingdom, October 16, 2011 The StorDigital HD Clone Station (SDHDCS-5) is a fully standalone hard drive duplicator that creates up to 5 perfect clones simultaneously. The HD Clone Station can also securely erase data from multiple target drives using the USA's Department of Defense 5220.22-M sanitisation recommendation. This allows companies disposing of their legacy hardware to quickly and efficiently secure their data prior to disposal.
The StorDigital HD Clone Station supports standard 2.5" and 3.5" internal SATA drives and SSD, as well as PATA/IDE drives by way of an optional converter (sold separately).
The HD Clone Station from StorDigital is a fast and economic way for system builders and IT technicians to quickly and easily migrate and propagate data across multiple HDD targets. The device will work with a mixture of drive types (eg PATA & SATA in the same pass) allowing you to Clone or Sanitise any combination of drives at the same time.
The StorDigital HD Clone Station is totally standalone and requires no host PC or software for operation. It can be used anytime and anywhere without intensive training. The easy-to-use LCD interface allows for easy and fast operation of the simple clone function. The device also features a host of more advanced functions, including Compare, Quick Compare, PreScan and more.
Nic Ranshaw, Managing Director of StorDigital Systems had this to say,
"Data security is the word on everybody's lips right now. Whether you are working in the public or private sector the importance of preventing unauthorised access to your organisations data has never been more important. We frequently see news stories regarding lost USB drives or data theft. It's the responsibility of companies and the individuals within those companies to do all they can to prevent data leaks.
"With the new WEEE schemes in operation you have countless companies that offer regulated disposal for end of life electrical items, but disposal via unauthorised channels can lead to serious problems. The fact is that items such as business computers are often broken for components and an unsanitised hard drive can make very interesting reading for curious eyes. You could easily find yourselves victims of identity theft and at very least it's an easy way to loose your customer database to the public domain – or your competitors."
StorDigital HD Clone Station, hard drive duplicator, offers users the following great features:
Standalone SATA HDD/SSD Duplication System, No Computer Required
Duplicate up to 5 drives simultaneously
Tray-less design allows for quick HDD swap
Synchronous/Asynchronous Duplication
Sanitise up to 6 target drives simultaneously
Supports 2.5″ and 3.5″ SATA HDD's (PATA via adaptors)
User-friendly interface with LCD
Easy operation with no software or training required
StorDigital HD Clone Station 5 target hard drive duplicators are available now from CD-writer.com Ltd and StorDigital Systems at an approximate price of £1400. Call 0208 293 0777 for more information.
Retail customers can get more information and buy online at www.cd-writer.com/hdclonestation.html.